Neev Kolte was just like any other Fairlands Elementary School student. From eating spicy chili peppers from his backyard with his older brother, to playing in the sandbox with the neighbors' son, Neev was another regular kid living in Pleasanton.
But during one of his bike rides with his dad around the neighborhood, he started losing his balance. Sandeep Kolte, Neev's father, told Livermore Vine that he remembered being a little annoyed at first.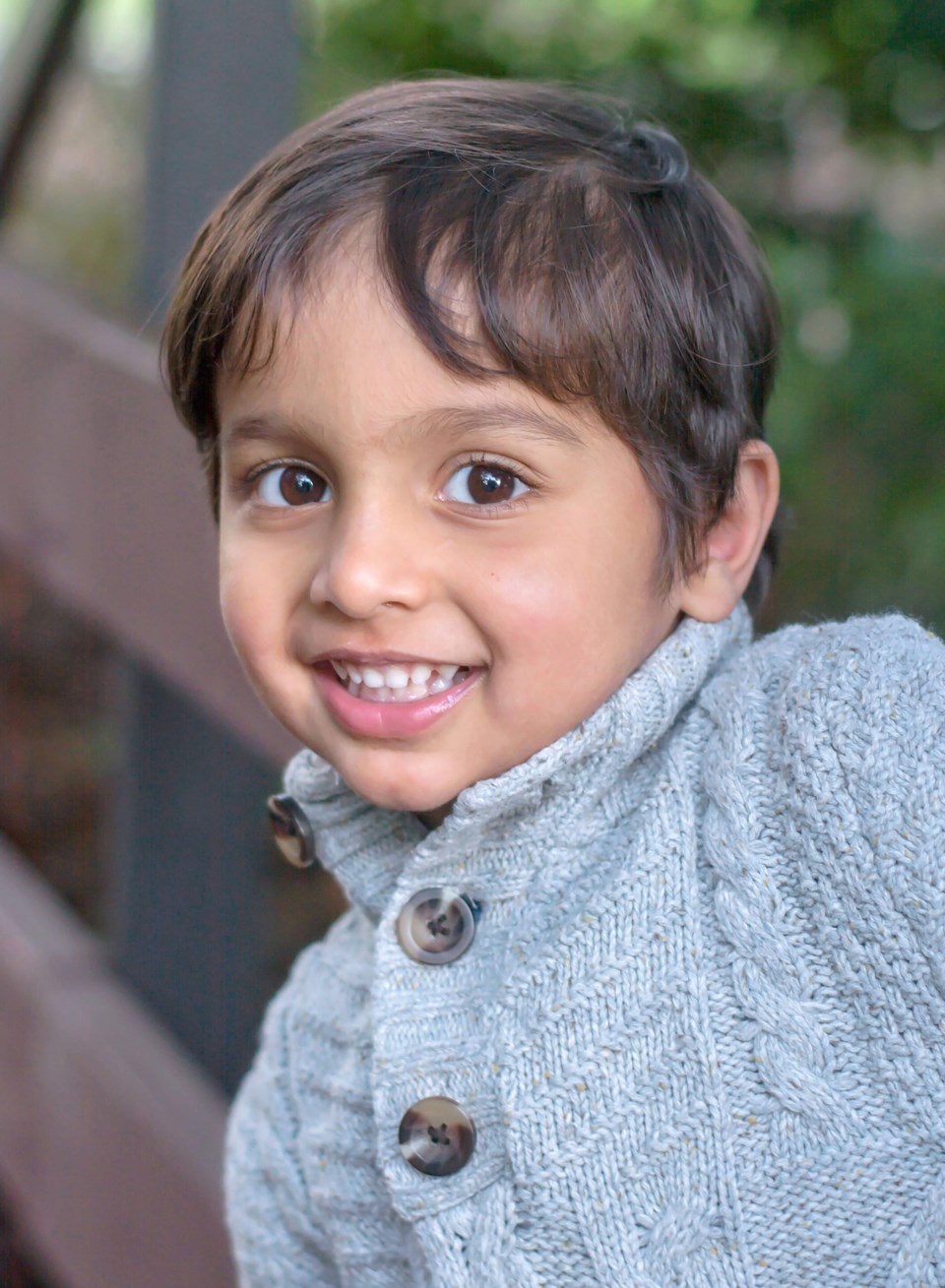 But the next day, Neev's eyes went red and he wasn't able to stand straight. Sandeep and his wife decided to go to the doctor, who unexpectedly referred them to the emergency room and after several brain scans the doctors confirmed their worst nightmare. Neev had terminal cancer. "They asked a social worker to be there and that was kind of a big red flag. And there were four or five doctors and they said, 'Well, we have no cure and this is inoperable,'" Sandeep said.
"I kept asking them, how much time do we have and they wouldn't answer." That all happened back in August 2020 -- what followed was a 15-month battle for young Neev. He died on Nov. 30, 2021. But as the Kolte family looked for ways to mourn Neev's death, his brother Rayaan took it upon himself to turn that grief into something positive.
That led him to put together a toy drive this past Christmas where he helped collect 258 toys from others in Pleasanton and donate them to families in need at the University of California, San Francisco Benioff Children's Hospital, which is where Neev received treatment.
"I wanted to do this toy drive for (Neev) because I want to make (other children) happy and I like helping people," Rayaan said. "I know how it feels to have someone in your family really sick. So I want to help other people who go through that."
Neev was only 5 years old when his family found out he had what is known as diffuse intrinsic pontine glioma, or DIPG. According to the National Cancer Institute, DIPG is a rare, fast-growing tumor that forms within cells inside the stem of the brain.
"DIPGs tend to spread to nearby tissue and other parts of the brain stem, are hard to treat and have a poor prognosis," according to the institute's website. "They usually occur in children."
Sandeep said that it wasn't all at once, but slowly over time he saw his son lose many of his motor function abilities such as talking, to move his neck or to even swallow. "What sucks is you're told to go home, make memories and you're told that they cannot do anything about it and the doctors have no answers," he said.
But both him and his wife were not ready to give up the fight. They kept going to different places to seek treatment and finally ended up at UCSF where they spent days on end with Neev.
But a couple of months passed and Neev went into a coma in November 2021. Then after a couple of weeks, his parents decided to bring him home where he died the next day.
"At first, I felt sad and confused and I pretty much am still confused," Rayaan said regarding his brother's death. "It's kind of hard going to his room to drop things off and pick up things." Rayaan said that he wanted to do something good in Neev's memory, so he first started by putting together a lemonade stand with another kid in his neighborhood, Athena Fasheh.
"I had always wanted to do something like that, but it always seemed kind of impossible," Fasheh said. "I learned it really wasn't that impossible, especially with the help of people that were so kind and caring."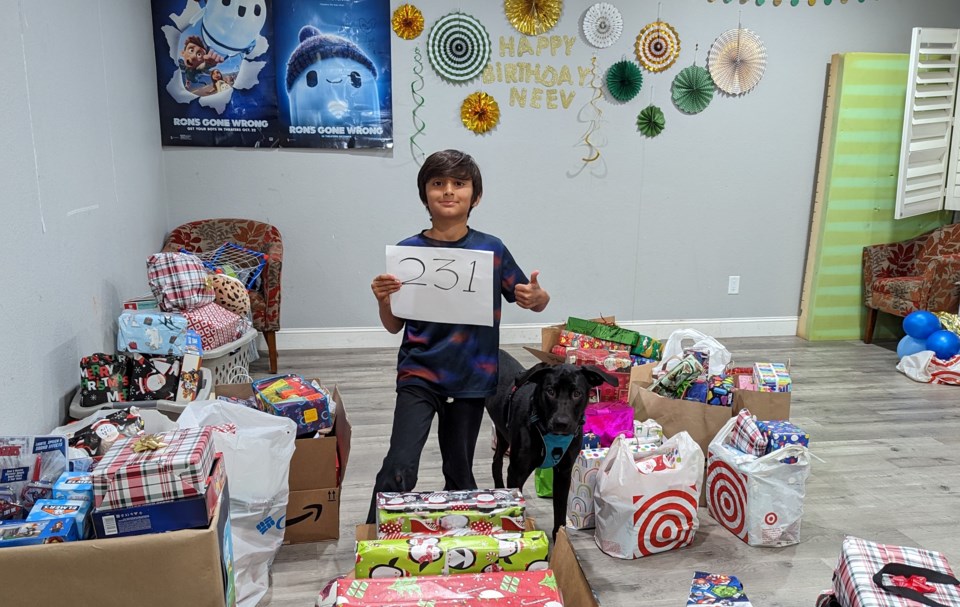 They ended up raising $200 that they partially used to buy toys for a child Rayaan knew whose brother had cancer. "We gave him toys because we know how it feels to be left out when your sibling gets all the attention," Rayaan said.
Rayaan then took it a step further when he brought up the idea to put together a toy drive to his fifth grade teacher, Lizette Gianfortone, who ran with the idea by putting up flyers, involving his fellow classmates in writing get well cards and, with the help of Fairlands principal Heidi Deeringoff, sent out a newsletter to the Fairlands community asking people to donate toys.
"My entire community helped raise toys and then we brought all the toys to UCSF because I know how hard it is to go on Christmas without getting a toy," Rayaan said.
Other ways that the Fairlands and their neighborhood community helped the Kolte family, apart from donating toys, were with simple things like keeping them fed. Kimberly Lau, Athena's mom and next-door neighbor to the Koltes, explained how they had created a spreadsheet so that people could sign up and send the family food, which is something that Sandeep said was not a priority.
"One of the hard things about it is that Neev was the same age as my son, so it was very difficult to watch them go through this," Lau said.
Providing food for the family was something that she was proud of her community for doing, but she was just as proud of her own daughter and Rayaan for putting together the toy drive and donating all those toys.
"As a parent I of course, I am very saddened and continue to grieve Neev's loss. At the same time, I'm very proud of Rayaan and Athena for stepping out and just having the initiative to come up with an idea like this in the first place," Lau said.
Sandeep similarly said that he is proud of his son and even found inspiration in how Rayaan is looking forward to continuing the toy drive every year as part of the family's foundation for Neev.
"We all are trying to find a reason to live, a purpose to continue life, and I think each one of us in the family is trying their own way, in their own fashion and I think what you see in Rayaan is the manifestation of the same thing," he said.
And while Sandeep said he will never stop grieving his son's death, the main thing he wishes is to raise more awareness to these rare forms of cancer and for people to start supporting organizations that research cancer so that more funds can go toward finding cures.
"As much as I want my Neev to be remembered, I think it's the need for awareness and to give funds to cancer to the organizations (that is more important)," Sandeep said. "If you know a family that is struggling with cancer, do something to help the family."