While many recent efforts to address homelessness in the Tri-Valley have focused largely on shelter and housing, longtime Livermore resident Jacky Poulsen is helping tackle another significant challenge unhoused residents face: transportation.
Poulsen is the founder and coordinator of the Tri-Valley Bus Pass Program, which donates 24-hour bus passes to nonprofit organizations throughout the region that support people without homes.
The passes -- which cost $3.75 each -- are specifically to use the Wheels bus service, operated by the Livermore Amador Valley Transit Authority. The program pays for the passes and offers them at no cost to those who need them.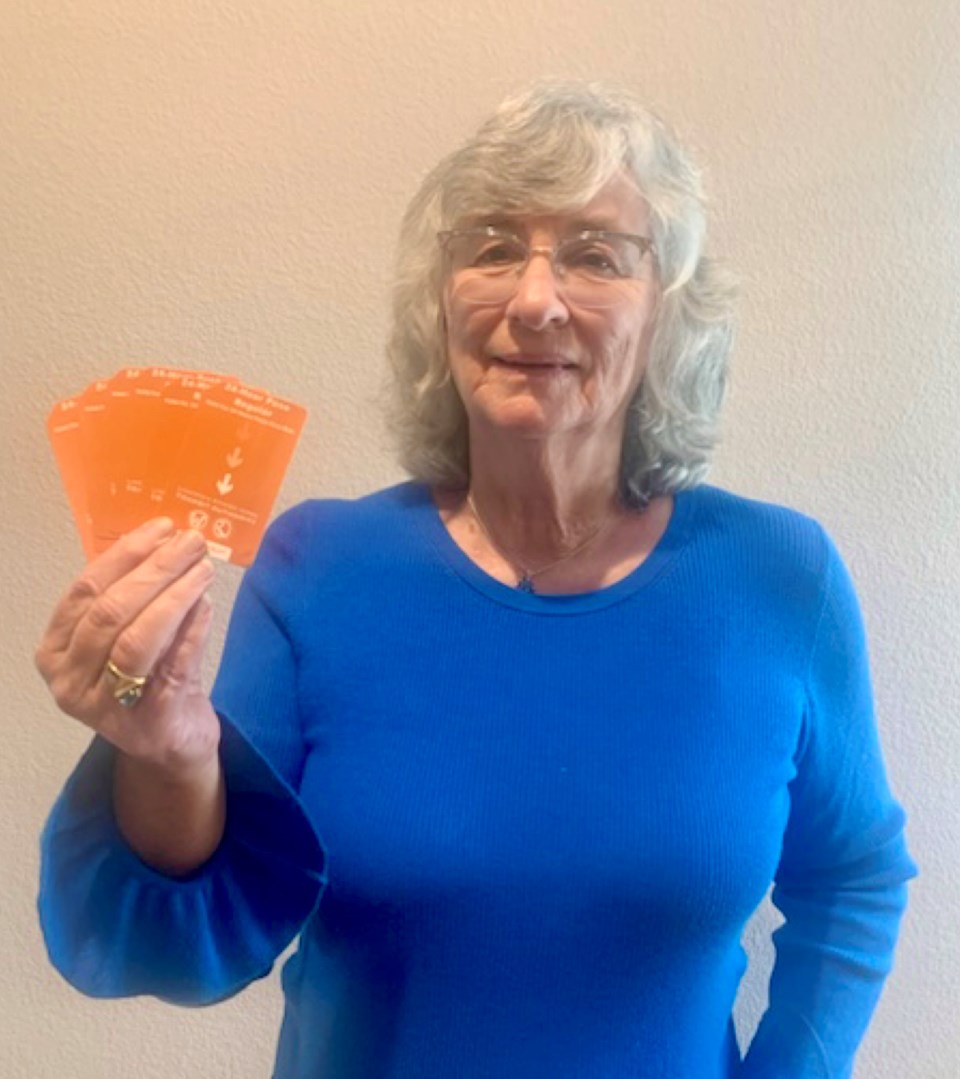 The program is in its eighth year and is a collaborative effort with Asbury United Methodist Church which handles the accounting while Poulsen procures and distributes the passes.
"The problem that we are addressing is that a lot of times people have to get from point A to point B and if they don't have money and they don't have their own vehicle, it's very expensive for them to take the bus every time they have to go somewhere," Poulsen said in a recent interview with Livermore Vine.
"In Livermore and the whole Tri-Valley, we have a lot of services for the homeless but they're scattered and they're not necessarily geographically located where the people are, so they have to get there," she said, citing Open Heart Kitchen and Axis Community Health as examples. "That's the problem we are addressing with the bus passes; we're getting them there," she added.
She also noted that in addition to being able to access services throughout the region, the passes also help people without transportation get to work and to job interviews.
Poulsen's philanthropic efforts initially started many years ago with collecting socks during the holidays to donate to people in need but after a while she decided she wanted to do more. She connected with a friend who had more insight into the needs of unhoused residents and learned that there was a demand for bus passes.
"The community has been so supportive," Poulsen said. "(People) love (the program) because it's totally local and there is 0% overhead – absolutely not a penny – and people can appreciate the need and the value of being able to provide transportation to these folks. So it's been a really positive thing that the community has gotten behind," she added.
Donations to the program are made out to Asbury and roughly once a quarter Poulsen goes to purchase a batch of bus passes and distributes them to about a dozen organizations throughout the Tri-Valley, including Livermore Homeless Refuge, Tri-Valley Haven, Goodness Village, the Interfaith Sharing Food Pantry and Cornerstone Fellowship, among others.
"We at Goodness Village are extremely thankful for Jacky Poulsen and the Tri-Valley Bus Program for providing the neighbors at the village with bus passes," said Kim Curtis, executive director of Goodness Village in Livermore.
She continued, "The village is in a remote area which might have proven a barrier to accessing services if not for Jacky's program. The Goodness Village neighbors use the bus passes to travel to medical appointments, the grocery store, retail shops and to work. Because we have a limited supply of bus passes we also rely heavily on volunteers who help provide transportation to the same locations. We are thankful for the way the Tri-Valley community has shown up to help us provide the support needed to assist those residing at Goodness Village."
While donations to the bus pass program are accepted year-round, Poulsen organizes a big fundraiser each year during the holidays, starting around Thanksgiving and extending throughout the winter months, which she said is typically when they receive the most donations.
Her desire to give back was inspired about 20 years ago during her experience in the Livermore Police Department's Citizens Police Academy. After learning that one of the department's biggest challenges was homelessness, she decided to find ways to help. "That was my defining moment in terms of my interest in helping the homeless and I've done a number of things over the years since and the bus passes is one of them," she said.
To learn more about the program, visit https://www.asburylive.org/buspassprogram