On most nights at Pennyweight Craft Brewing, patrons of the downtown Livermore pub might find themselves enjoying one of the many handcrafted beers or food from the indoor food truck that serves as a kitchen.
But last week, the building was filled with guests who participated in one aspect of the beer-making process that doesn't pop up as often at the brewery -- bread dough.
"I'm a nurse so it's nice to have something that you can just kind of let loose at the end of the day and it doesn't require you to think too hard and you can just do something fun," Livermore resident Soly Winters said.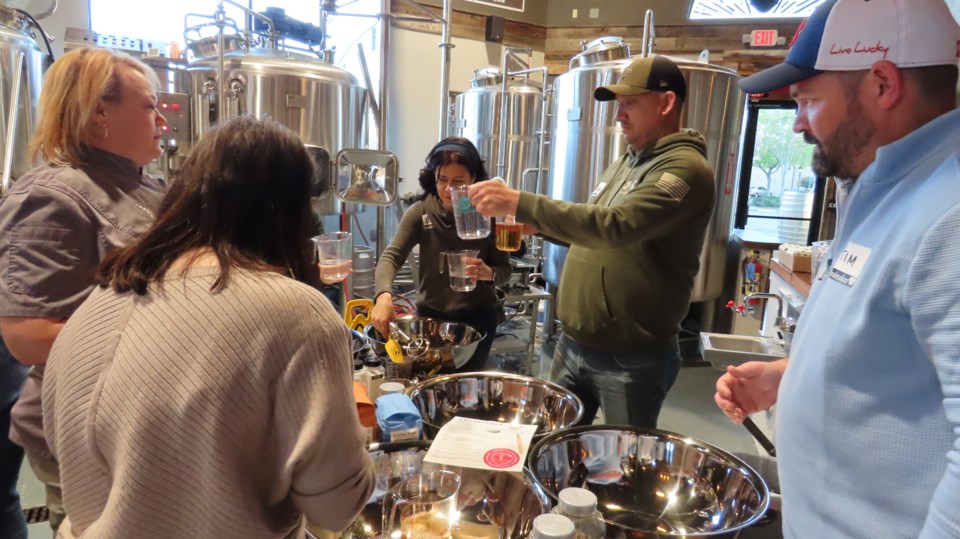 Winters was referring to the sold-out Grainbakers spent grain bread-making classes that she attended at Pennyweight on April 12 along with 46 others -- half of whom were Livermore residents who had never been to the establishment before that day.
Grainbakers is an on-the-road bread course that was founded by Caitlin Jewell, a former brewery owner, who said the brewery-based baking classes that she teaches not only help bring new customers to these small breweries, but they also help educate people about spent grain.
Spent grain is produced when the malt from a brewery has already been used to make beer.
Jewell, who owned a brewery in Boston before it shut down due to financial struggles resulting from the pandemic, said that breweries typically get rid of somewhere between 250,000 to 500,000 pounds of spent grain a year.
She said that when she and her husband, who is also a brewer, ran their business before they moved to Pleasanton, she had begun teaching classes on how to use spent grain to bake bread as not only a way to help breweries get rid of the product but to also increase their revenue.
"It's a bit of entertainment to bring in business on slow nights of the week, and, more importantly, to bring in first-time guests who might now go try a new brewery," Jewell said.
She said the class also helps teach people more about the beer-making process and how spent grain, especially in Livermore, is usually donated to local farmers to be used as food for livestock. She said in places like where she lived in Boston, they would need to get rid of the spent grain by paying a commercial composting company to take it away.
Apart from that, Jewell said spent grain is great to use in baking because it has a lot of protein and the texture is perfect for making bread that incorporates the flavors of the grains used for beer.
For Winters, who lives just around the corner from the brewery and is a common patron, it was her second time taking the class. She said she already loved Pennyweight and she enjoyed the idea of being able to support the business while also doing something fun.
"I think Caitlin is so awesome and the bread is phenomenal," Winters said. "If we don't support (Pennyweight), they won't have these cool kinds of things to go to that are off the beaten path ... like something different to do on a weeknight that's not just the norm."
The class consisted of an introductory period where people got a chance to mingle, drink and learn more about the brewery during a tour of the space.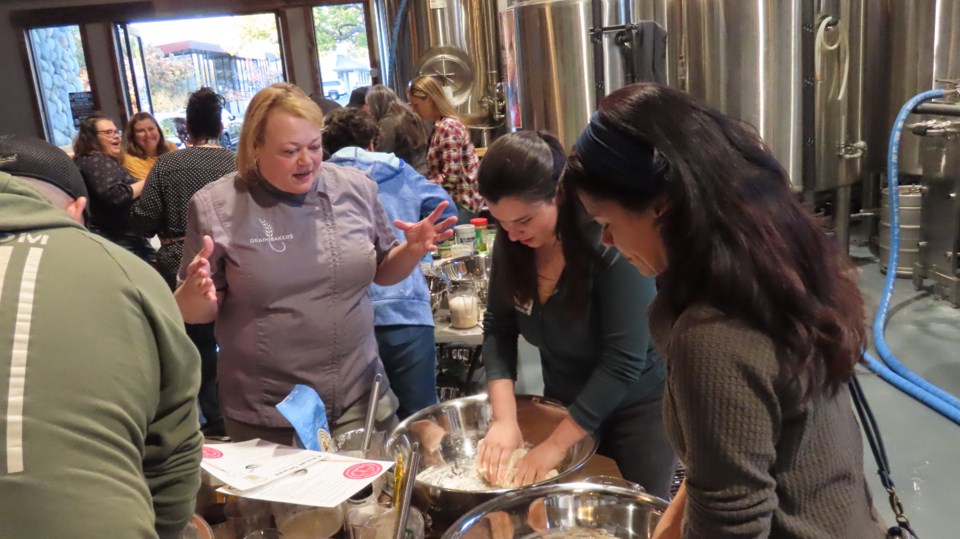 Pennyweight, owned and operated by Chris Guy, first opened right as the pandemic first hit hard in March 2020. Guy, a 15-year-long resident of Livermore, said that he had first quit his construction job in 2015 to follow his passion and dream of brewing beer.
"I fell in love with homebrew, I don't know, probably 10 years ago now," Guy said. "I just fell in love with the science of it. I love the fact that you could turn water into drinkable beer that was good."
But as he finished the nearly two and a half years of construction and opened up the brewery, he quickly found himself trying to dig out of a financial hole that was worsened by the pandemic.
"It's been a struggle and a half, to be honest," Guy said. "I knew this was gonna be the craziest, hardest thing I've ever done in my life."
He said that even apart from the pandemic, his journey of building his business from the ground up -- quite literally given that he constructed most of the renovations on his own given his construction background -- he still had a lot of challenging curveballs thrown at him.
"Honestly, it's just been 'adapt and adjust' every single day, week, every month," Guy said.
That's why he said he was extremely grateful for Jewell's bread-making class.
"What Caitlin does, it's just, it's another byproduct of the brewing process. So in order for this not to end up in a landfill, she's created this amazing event (that) interacts with the community," Guy said.
"We got a lot of first-timers here tonight," he added. "And there's a lot of Livermore addresses on first-timers tonight, which is just crazy cool."
One of those first timers was Pleasanton resident Terri Boyle.
Boyle, who had never been to the brewery before, went to the class to spend time with her longtime friend and fellow Pleasanton resident Anne Myers, who had been to Pennyweight for her birthday before.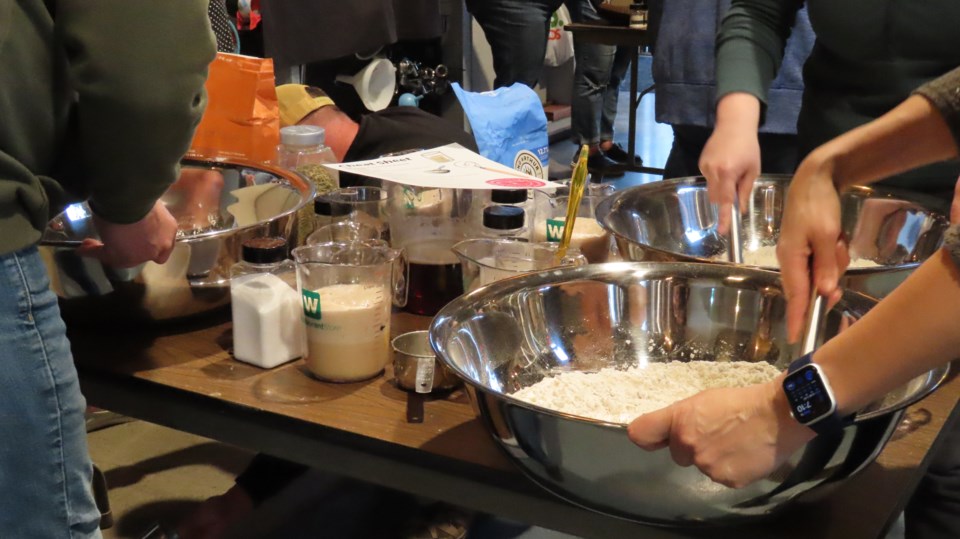 Both women said that the class was a way for them to get out of the house and hang out while doing something fun, even if they weren't the most experienced bakers.
"I love it," Boyle said as she viciously kneaded her dough. "I think Chris has done a wonderful job ... I love how he recycled and repurposed a lot of the materials that were used (to build the place)."
Boyle was referring to the mezzanine in the second floor of the brewery, which was constructed by using repurposed wood from the prior rock-climbing business that occupied the building, and from benches that used to sit at Shadow Cliffs Regional Recreation Area.
It's those first impressions that Jewell said really drive the spent grain baking class and is really why she only works with small, locally owned and independent family breweries.
"I keep saying, I'm on a mission to help small breweries reboot after the pandemic (because) getting people back out is harder than it looks -- even with great beer," Jewell said. "Getting people to have an excuse to go out -- It's really important."
She also said that while her company gets the revenue from the ticket sales, they don't charge the brewery any money and she also uses a lot of the money she makes to invest in social media advertising for all the breweries that she works with in the Tri-Valley, to the South Bay and even to the Peninsula.
And while she said seeing the satisfied customers laugh and enjoy the class is nice, it is equally as nice seeing the brewery owners' faces light up at how much money they made on typically slow nights.
"They're just grateful to have something that's truly related to their business and it's fresh and not paint night, or trivia," Jewell said.
The spent grain class will be returning to Pennyweight on May 24. To learn more about the class and to register for the event, visit their website at www.grainbakers.com.