Local knitting shop owner Sandy Rowney held a knitted shawl to the camera. Its arcing stripes of blue and variegated rainbow curved with the half-circle shaped garment.
She shouldered it on and tidied the fabric around her neck, the item's intricate lacing splaying over her white shirt.
Rowney was modeling the "Chevron Delight" knitting pattern using yarn from her store Knit This, Purl That! (KTPT) located in Livermore.
A number of handmade items like the Chevron Delight shawl are shown during the store's virtual fashion shows.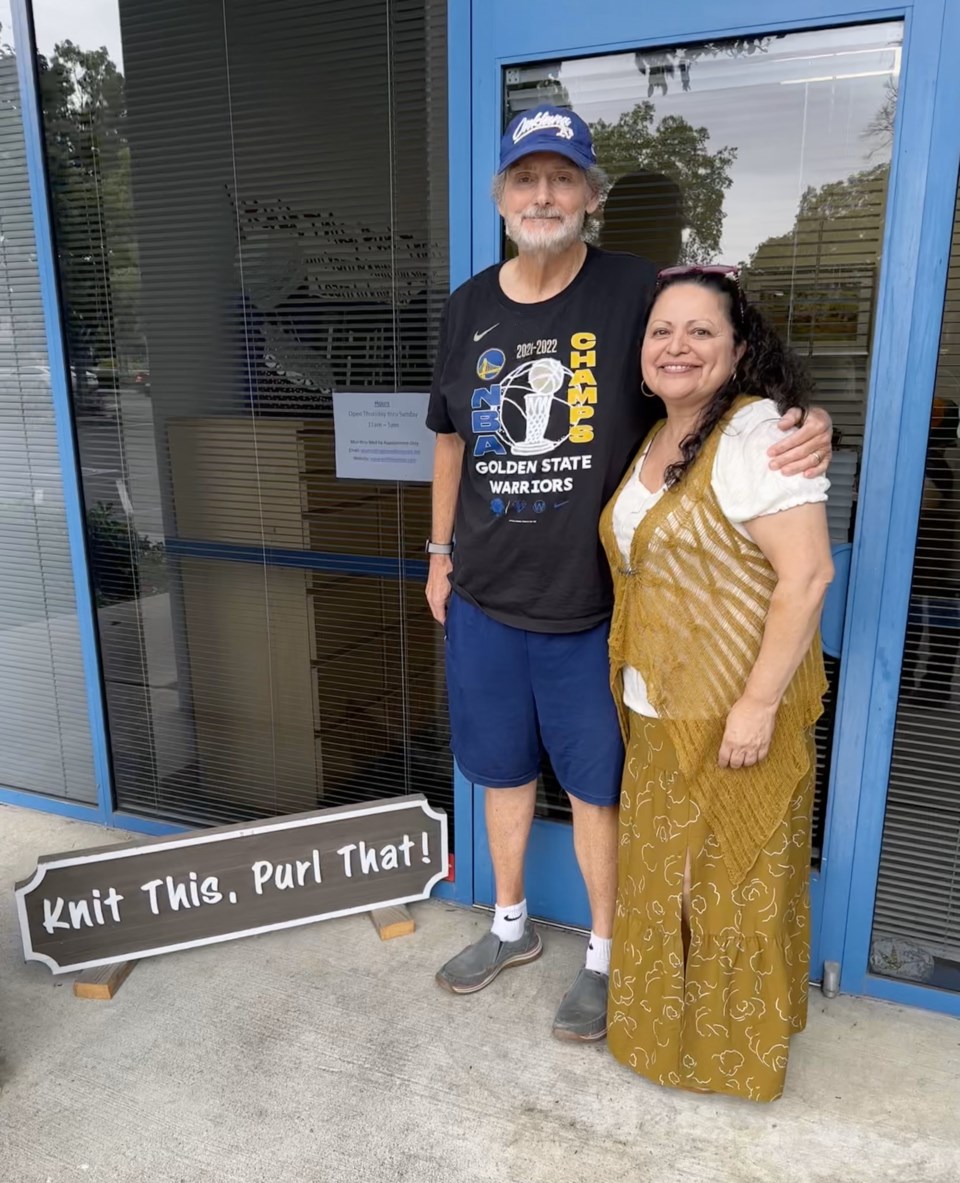 The event is part of a series where husband and wife duo Sandy and Jim Rowney present the knitted garments customers can create from store products.
Since their storefront's reopening in June, these near monthly, free-to-attend virtual shows continue online while classes and official knit-alongs are run in a hybrid format.
Online options add convenience for local shoppers, but the Rowneys said their main reason for keeping the mode was to remain connected with their virtual audience, which they amassed through more than three years of online-only operations throughout the coronavirus pandemic.
"We intend to keep the shows and the online business thriving," Jim Rowney said. "We get a lot of out-of-area business that we want to keep going. It's been a lifeline. We wouldn't have survived without it."
At fashion shows -- hosted by KTPT and "Vogue Knitting" magazine -- the store models and describes knitted items that customers can create from "kits," or bundled material packs, available for purchase.
Their August show featured a procession of knitted shawls, cowls and a pair of gloves. Sandy Rowney knitted most of the items and often offers free assistance with purchase of a kit, depending on the intensity of instruction.
Virtual events like this are relatively new for KTPT, which operated exclusively in-person before shutting its doors in March 2020.
Shortly after, maintaining the lease became impossible as the Rowneys lacked income from in-person shoppers. They vacated their previous Livermore location, moving inventory to storage and, later, to their home.
The couple scrambled to keep their business afloat.
Zoom and knitting kits, they found, were the buoy they needed.
Within the year, KTPT began hosting virtual knitting classes and fashion shows through "Vogue Knitting." Then in 2022, KTPT began hosting its own shows as well.
The business hung on.
Sandy Rowney postponed reopening a storefront more than two years beyond the state's full-capacity reopening because she wanted shoppers to stay healthy, especially amid variants of coronavirus. Only after reaching her comfort-level did she decide to reopen.
Through the transition, owners of KTPT still value the virtual audience they connected with during their years without a retail location.
"I don't want people to feel like I abandoned them, just because I opened a shop," Sandy Rowney said. "I didn't want to lose anybody. I wanted them, still, to be a part of what we created."
In addition to the online fashion shows, knitters gather for KTPT's hybrid classes and knit-alongs. Some get together on a weekly basis and others meet for one-off instruction.
Shoppers can visit KTPT Thursday-Sunday, from 11 a.m.-5 p.m. at 474 Lindbergh Ave. in Livermore.
To inquire about attending a virtual fashion show, call KTPT at 925-895-2683 or email yourknittingplace@comcast.net. More information about KTPT is available at knitthisonline.com.