Pierce Estremo, a 7-year-old Livermore resident, is enjoying just being a kid again since completing treatment for leukemia earlier this year.
Instead of enduring grueling chemotherapy, he's playing baseball, soccer and working to tick items off a long bucket list of sports and adventures like learning to snowboard, jet skiing and riding an ATV in Hawaii.
Estremo rang the golden bell at Lucile Packard Children's Hospital Stanford amid applause and cheers back in January. Participating in the longtime tradition signaled the completion of Estremo's treatment and his discharge from the hospital.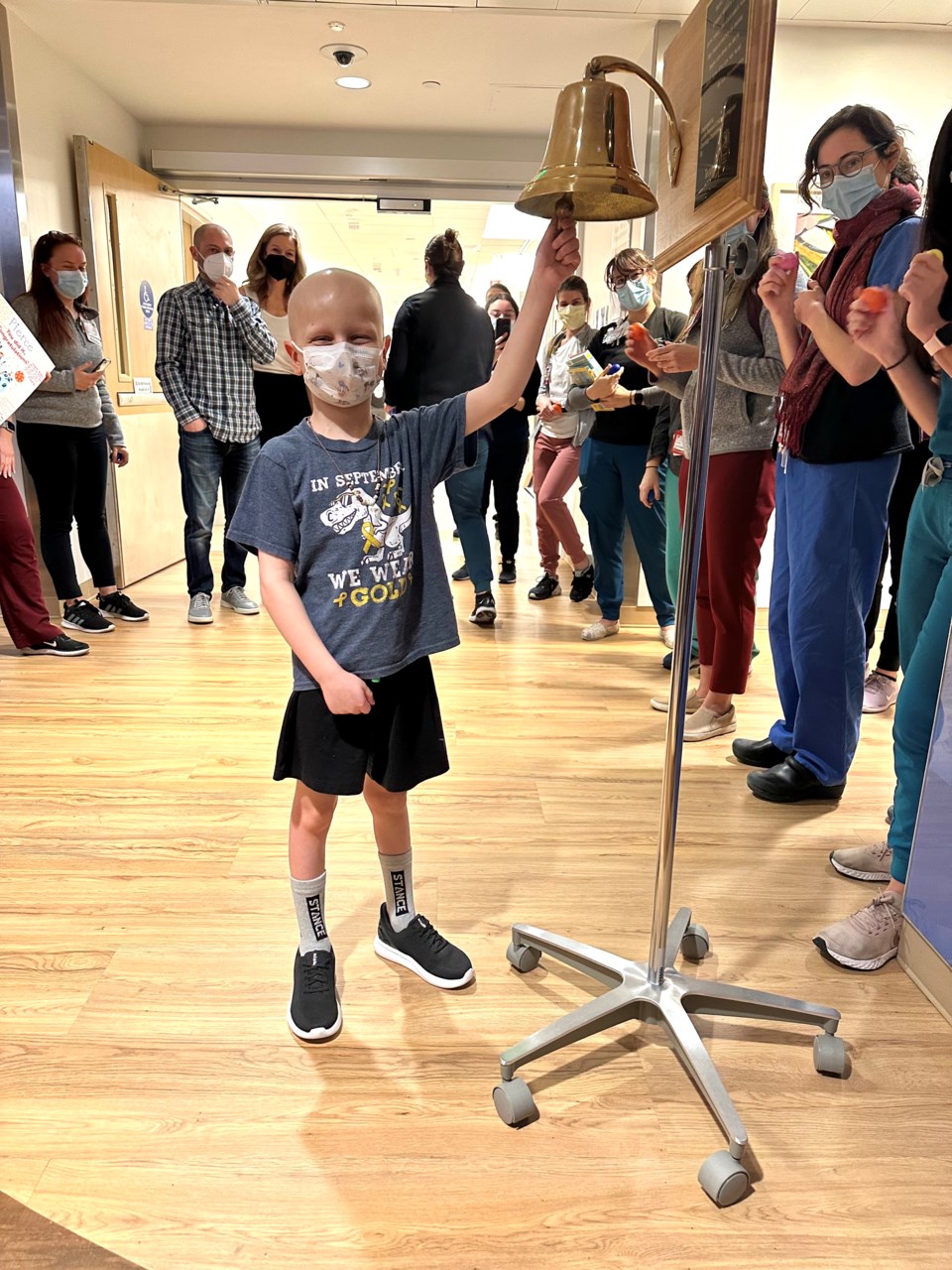 His six month journey in treatment was challenging, but not one shadowed in gloom. Instead, the Livermore family kept positive attitudes through his unexpected cancer diagnosis and intensive treatments, according to his mom Meredith Estremo.
"We have a lot of gratitude for the space that we got to be in with Stanford, the friends that we had down there that supported us and the community," Meredith Estremo said.
In addition to his bucket list and sports, Estremo has returned to school at Emma C. Smith Elementary and spending time at home with his family.
Before his symptoms began in the summer of 2022, then 6-year-old Estremo had been healthy and active. His mom said that as soon as he was able to hold a ball, he loved playing baseball. Later, he grew into gymnastics, martial arts, soccer and swimming.
But in July of that year, he was struck with ear infections and later back pain.
After returning from one of many urgent care visits, his parents' concern turned to shock when a doctor informed them of his diagnosis.
"There was a lot of fear, a lot of anxiety of what we didn't know and we were very naive about childhood cancer. We didn't know anyone who had gone through this," Meredith Estremo said.
The very same day, with just a blanket and an extra set of clothes for their son, Meredith and husband Peter Estremo brought him to the Marc and Laura Andreessen Pediatric Emergency Department at Stanford Hospital in Palo Alto.
Much of his young life was put on pause, including his first grade school year at Smith.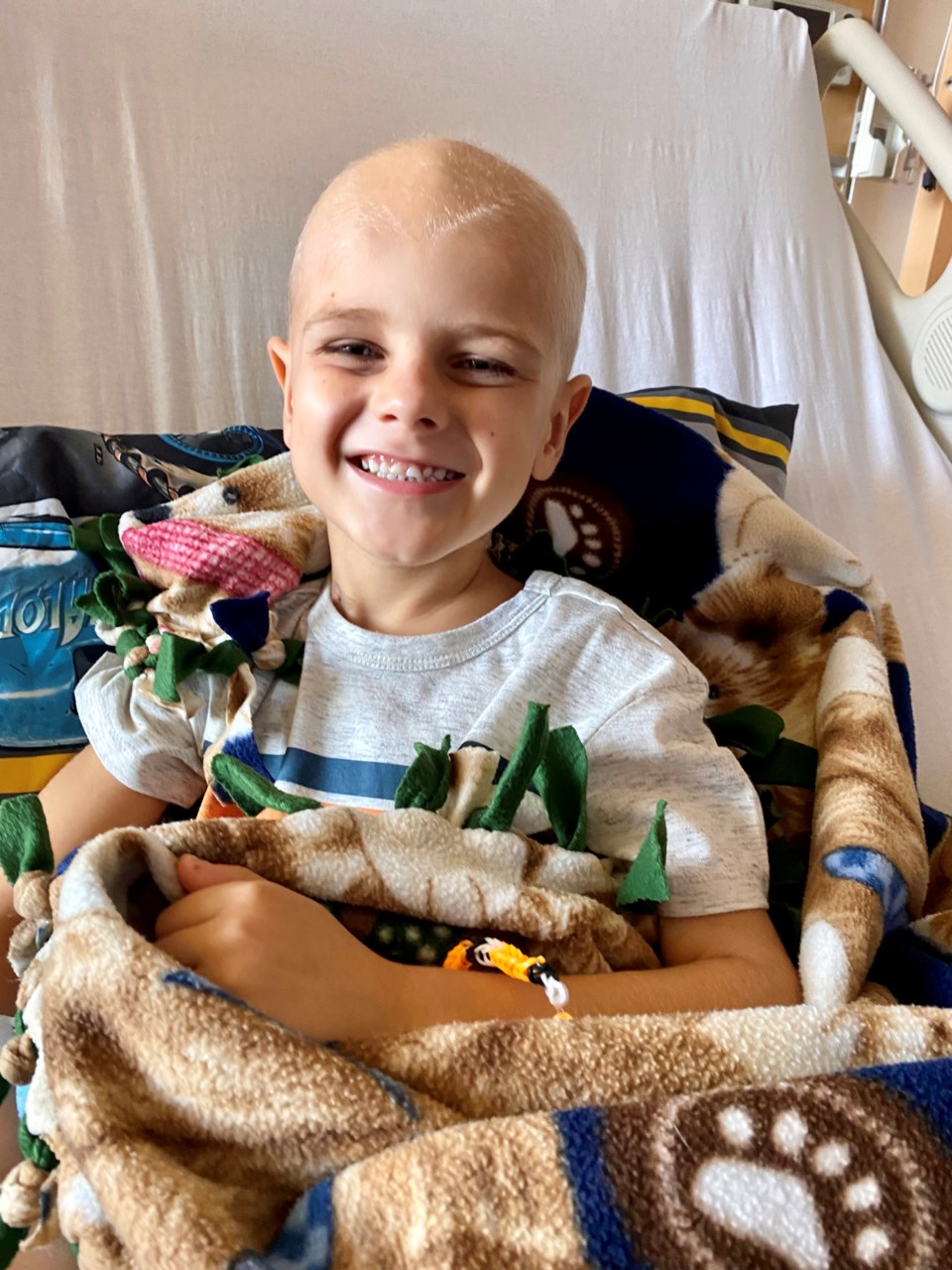 Testing confirmed Estremo had leukemia, a type of cancer of the blood tissue, according to his primary oncologist Norman Lacayo, a pediatric hematologist-oncologist at Stanford Medicine Children's Health.
With leukemia, bone marrow forms irregular blood tissue that overwhelms regular blood tissue like oxygen-carrying red blood cells, infection-fighting white blood cells, and platelets that prevent bleeding. This results in issues with oxygen movement, fatigue and the reduced ability to fight infections.
More specifically, Estremo was diagnosed with a low-risk type of acute myelogenous leukemia (AML), a rare form of leukemia for children in the U.S, with only about 1,000 cases occurring in children below age 19 each year, according to Lacayo.
It is considered acute because of its rapid onset, but those with low-risk AML tend to respond well to chemotherapy. Plus, the disease is curable.
Within a few days of arriving, Estremo began chemotherapy at Lucile Packard. His treatment was part of a phase-three study, the stage of a clinical trial that compares the effectiveness of newer medications to standard ones, according to Lacayo.
Estremo's leukemia was no longer detectable after just one round of chemo, said Lacayo. But completing treatment meant three more rounds.
Everyday for those six months of treatment, at least one of Estremo's parents was at his side. His older sister also visited and he constructed identical Lego sets with his best friend through video calls.
He took part in music and art therapies, schooling and video production for the hospital's in-house television broadcasts.
Estremo remained largely optimistic during that time, even through the fatigue, nausea and hair loss.
Meredith Estremo said she would tell him, "We have to fight this. These are things we have to do. We don't have a choice. When there's things we have a choice on, we'll give them to you."
The family's positivity in the face of adversity was intentional.
"My husband and I made it a point to keep it very light and bright for Pierce. We knew it was going to be hard, but we wanted him to feel supported. And we wanted to not make it harder from our fear and anxiety," Meredith said.
While they kept their son uplifted, she and her husband found strength in their partnership, the hospital staff, family, friends and their community of faith.
Since leaving the hospital, Estremo visits Stanford every three months to monitor his remission, though Lacayo said he does not expect any recurrence of leukemia.
When he rang that hospital bell, Estremo was celebrating more than just completing treatment, he was celebrating the transition into the rest of his life.