About 100 people chanted in the rain Tuesday morning to demand an end to Alameda County's residential eviction moratorium, which the Board of Supervisors may shutter in two months or let expire.

The moratorium under current county law will expire 60 days after the end of the local COVID-19 health emergency, which occurred on Tuesday, county officials said.

If the board tried to end the moratorium sooner, it wouldn't be able to because of the Brown Act and other rules.

The moratorium applies to both cities and unincorporated areas in the county. But if a city's moratorium is more restrictive, then the more restrictive provisions apply to that city.
Also, if a city's law is stronger for tenants than for homeowners, the county's provisions for homeowners apply.

Jinyu Wu, a San Leandro property owner, started a hunger strike in protest Sunday morning in front of the Alameda County Administration Building where the Board of Supervisors meet.

Wu, an immigrant who came to America in 2016, contends he is owed more than $120,000 in unpaid rent. He said he was feeling better inside the supervisors chambers Tuesday afternoon -- he said outside was too cold.

"I have two requests," said Wu in somewhat broken English when asked what he wanted the board to do Tuesday. "One, end the eviction moratorium immediately. Two, compensate many small housing providers impacted by eviction moratorium."

He wants the county to reimburse property owners for their losses and he blames the elected officials rather than tenants for the problem. He wouldn't say more than the brief comments he made, but others had plenty to say.
"It's not fair for small housing providers," said Jennifer Liu, president of the Business and Housing Network, a nonprofit that represents small property owners and advocates for property rights and housing friendly policies.

She said California's COVID emergency ends Tuesday.

"Why should the eviction moratorium continue?" Liu said.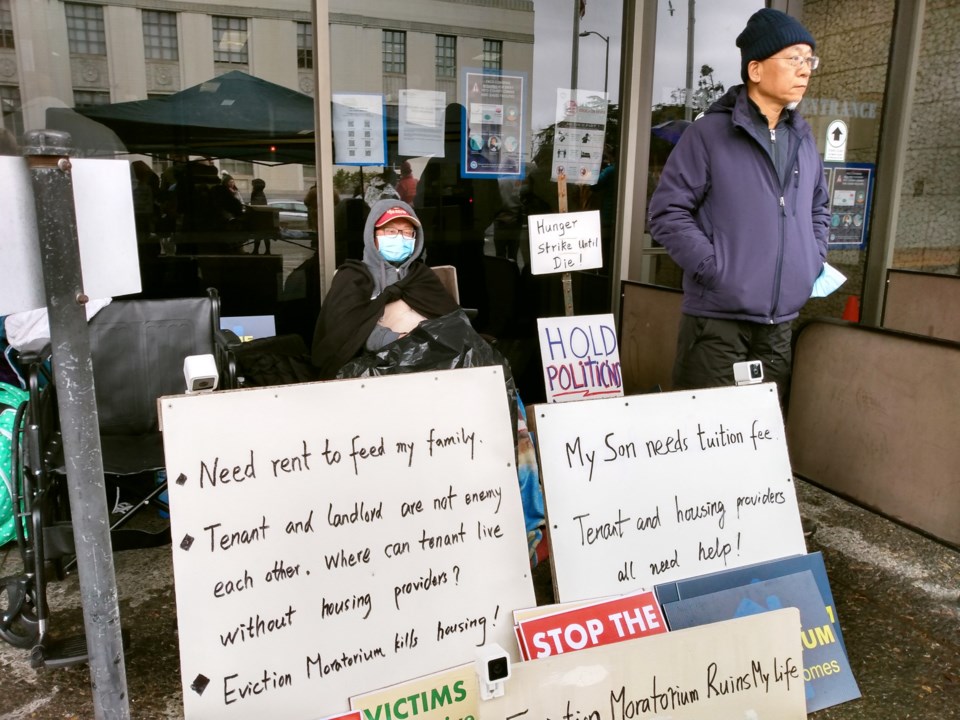 She agrees vulnerable and low-income residents should be protected, but also believes the government should consider others who need help, too.

Wu tried to go to court to get help, and his case was deferred 18 times because of the moratorium, Liu said. He does not have a stable income and survives now by doing odd jobs as a laborer on a friend's construction projects, she said.

"With the lack of income, his family is suffering," said Liu.

Wu also applied for federal rent relief and was not approved, she said. She doesn't know why.

"Why do they think that the rental income doesn't matter to small property owners?" she said. "I'm wondering if the staff or government officials would waive their salary for three years?"

"I firmly believe our eviction moratorium was an overreach," Board of Supervisors President Nate Miley told his colleagues and the people listening to the meeting.

He felt the moratorium should have been more restrictive.

"I'm a strong believer in property rights," he said.