Outlets celebrating Holi
The San Francisco Premium Outlets is set to host activities to commemorate Holi next week, an ancient Hindu tradition that marks the arrival of spring and is typically celebrated with music, dancing and by smearing and drenching yourself and others with brightly colored powders.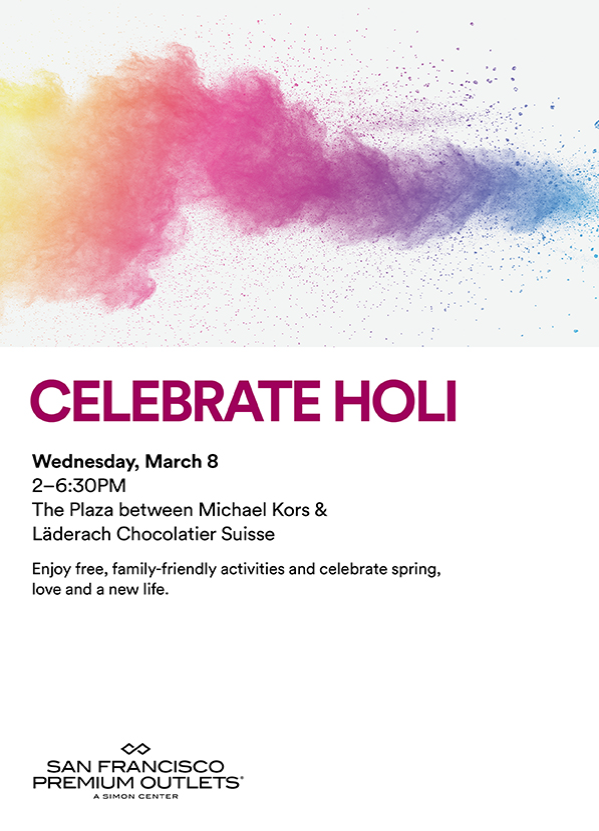 "San Francisco Premium Outlets is proud to celebrate the diverse cultural heritage in the Alameda County community and is thrilled to invite families, shoppers and residents to welcome spring, love and a new life," reps for the shopping center said.

Holi this year falls on Wednesday (March 8). That day, between 2:30-6 p.m., shoppers can stop by The Plaza between Michael Kors and Laderach Chocolatier Suisse at the outlets to participate in complimentary activities like henna hand painting, coloring and special retailer promotions. The event will be rain or shine.
I-680 work off again
For the second week in a row, forecasts of inclement weather has led Caltrans to postpone the final weekend-long closure of a three-weekend project on northbound Interstate 680 between Sunol and Pleasanton.
After completing the initial two shutdowns on Feb. 10-13 and Presidents Day weekend on the southern end of the work area, Caltrans has been unable to finish the final stage between Sunol Boulevard and Bernal Avenue in Pleasanton because of anticipated rain.
The agency is hoping the third time will be the charm, with the work rescheduled from next Friday (March 10) at 10 p.m. through the following Monday (March 13) at 5 a.m., weather permitting.
All northbound lanes will be closed through the work area for major repaving; detours will be in place. The southbound side of the freeway will remain fully open. To learn more, visit www.680paving.com.
PPD public meeting
The Pleasanton Police Department is holding a community meeting to discuss and answer questions from the public about its military use equipment report next Wednesday (March 8) from 5:30-6:30 p.m. in the City Council Chambers at 200 Old Bernal Ave.
The public reporting comes in the wake of a new state law that kicked in last year to require police departments to maintain an ongoing list of equipment it uses that has been defined as military equipment.
The PPD report, which acknowledges that the department "utilizes various types of military equipment to protect life, prevent crime and enhance the quality of life for all our community members", is accessible via http://ow.ly/hzxh50N1ofz.